Dental Lab Jewelry Micromotor Polisher Handpiece Ft Marathon
Both 110v and 220v versions are available for sale, we will send you the right power and plug!!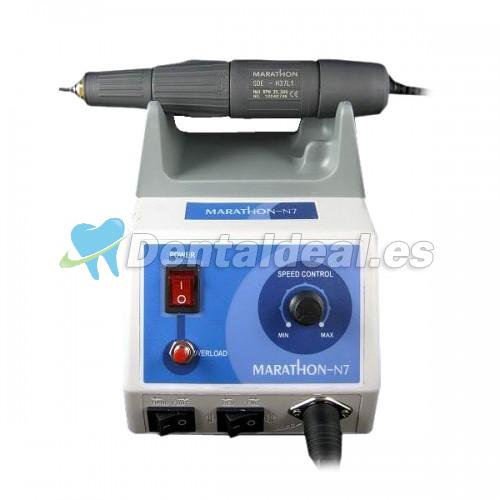 Marathon Micro motor Introduction:
Micro motor DENTAL Handpiece is an instrument made with motor and used for working with the turning force
from the revolving motor up to 35000rpm. And it is applied to cutting, grinding, polishing. The use of various
burs according to the material and working way are available. The products are mainly used for dental laboratory
and dental clinic. The use range has been expanded gradually for Jewelry, Nail, Engraving, orthopedics,
Industry market, beauty wood carving,egg carving etc.
Feature:
1. High Quality Electric Dental Lab Handpiece Micromotor, Strong 35000 Rpmm.
2. 0~35,000rpm, less-vibration standard carbon brush motor.
3. No heat after long hours of operation by effective electrical design.
4. Foot pedal for variable speed control.
5. Non stage speed system
(it's well designed to output from zero to 45,000rpm by using non stage speed system).
6. Right and left turning ability.
7. Foot ON/OFF switch system
Technical  Parameter:
1. Burs size: 2.35 mm
2.Speed range: 0-35,000 R.P.M
3.Collet size: 3/32"
4. Biggest torque: 280gf.cm